9/9 - 10:20 PM EDT

Oakland Coliseum

9/8 - 8:20 PM EDT

Gillette Stadium

9/9 - 7:10 PM EDT

Mercedes-Benz Superdome

9/8 - 1:00 PM EDT

FirstEnergy Stadium

9/8 - 1:00 PM EDT

Hard Rock Stadium

9/8 - 1:00 PM EDT

U.S. Bank Stadium

9/8 - 1:00 PM EDT

MetLife Stadium

9/8 - 1:00 PM EDT

Bank of America Stadium

9/8 - 1:00 PM EDT

TIAA Bank Field

9/8 - 1:00 PM EDT

Lincoln Financial Field

9/8 - 4:05 PM EDT

Dignity Health Sports Park

9/8 - 4:05 PM EDT

CenturyLink Field

9/8 - 4:25 PM EDT

AT&T Stadium

9/8 - 4:25 PM EDT

State Farm Stadium

9/8 - 4:25 PM EDT

Raymond James Stadium

9/5 - 8:20 PM EDT

Soldier Field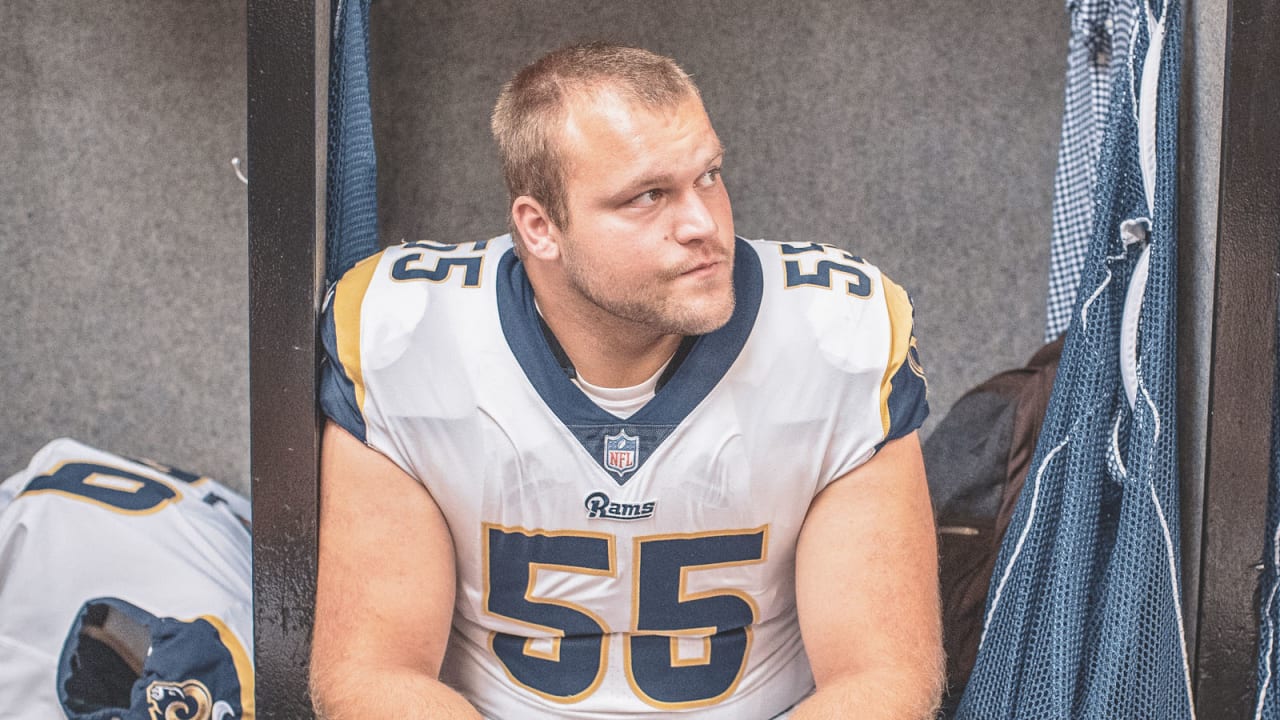 Brian Allen ready to compete for starting center
Los Angeles Rams
<p > <p >Allen, of course, didn't play much during last year's run to Super Bowl LIII. As a rookie, he saw mainly mop-up duty for a few games — both victories over Arizona and the Week 17 win over San Francisco. But he was also in for three plays in spot duty for starting center John Sullivan during the Week 14 matchup in Chicago.</p > </p ><p > <p >But even in limited playing time, Allen says he was able to learn a lot in his rookie year — mainly through the player in front of him.</p > </p ><p > <p >"Being behind [Sullivan] was honestly one of the best things that I think has happened to me," Allen said. "Coming from college, you get in a college offense, and being in the same system for four years, eventually I knew everything in that. And you get to a new system and you know the basics, and a guy like him starts talking and starts using words I don't know and describing defenses in ways I've never even thought about. And being able to see the way he thinks and the way that he went about the calls and stuff like that — I don't think there's a center in the NFL who's smarter than him as far as making the right 'Mike' point at the center position. That's obviously huge.</p > </p ><p > <p >"And the stuff he does is pretty unbelievable if you can really get in and grasp the stuff that he sees. So just being behind him for the whole year was honestly — at the end of my career, I'll be most thankful for that because he took me from here to here," Allen continued, displaying different levels with his hand. "And I still have a long way to go, but without having that I don't — again, being behind another center on another team, I don't if I'd be as good as I am now."</p > </p >
Allen, of course, didn't play much during last year's run to Super Bowl LIII. As a rookie, he saw mainly mop-up duty for a few games — both victories over Arizona and the Week 17 win over San Francisco. But he was also in for three plays in spot duty for starting center John Sullivan during the Week 14 matchup in Chicago.
But even in limited playing time, Allen says he was able to learn a lot in his rookie year — mainly through the player in front of him.
"Being behind [Sullivan] was honestly one of the best things that I think has happened to me," Allen said. "Coming from college, you get in a college offense, and being in the same system for four years, eventually I knew everything in that. And you get to a new system and you know the basics, and a guy like him starts talking and...
Rising second-year C Brian Allen has been training in Arizona this offseason in preparation to compete to start at the position in 2019.
Visit https://www.facebook.com/113735558483_10157674632003484