9/9 - 10:20 PM EDT

Oakland Coliseum

9/8 - 8:20 PM EDT

Gillette Stadium

9/9 - 7:10 PM EDT

Mercedes-Benz Superdome

9/8 - 1:00 PM EDT

FirstEnergy Stadium

9/8 - 1:00 PM EDT

Hard Rock Stadium

9/8 - 1:00 PM EDT

U.S. Bank Stadium

9/8 - 1:00 PM EDT

MetLife Stadium

9/8 - 1:00 PM EDT

Bank of America Stadium

9/8 - 1:00 PM EDT

TIAA Bank Field

9/8 - 1:00 PM EDT

Lincoln Financial Field

9/8 - 4:05 PM EDT

Dignity Health Sports Park

9/8 - 4:05 PM EDT

CenturyLink Field

9/8 - 4:25 PM EDT

AT&T Stadium

9/8 - 4:25 PM EDT

State Farm Stadium

9/8 - 4:25 PM EDT

Raymond James Stadium

9/5 - 8:20 PM EDT

Soldier Field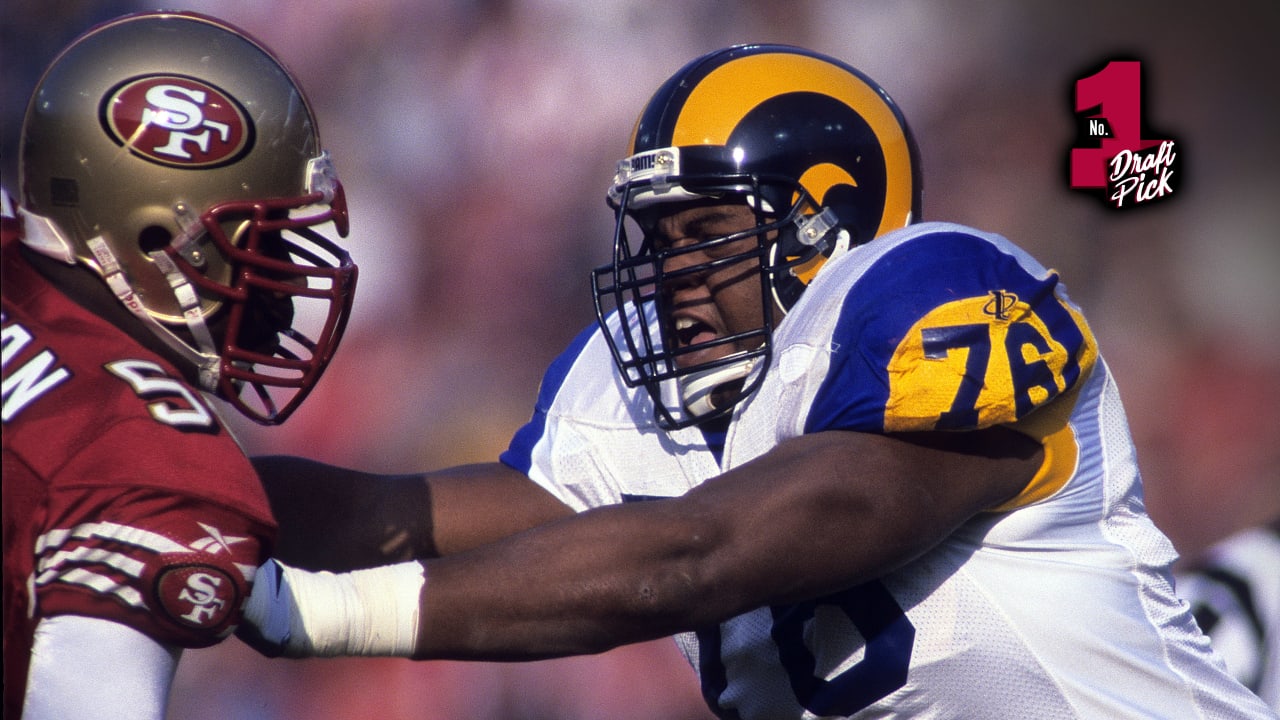 The One At 1: 1997 -- Orlando Pace
Arizona Cardinals
<p > <p >The Cardinals hold the No. 1 overall pick for April's NFL draft for the first time since 1958. As the day for the Cards to make their selection draws closer, azcardinals.com will take a look at the last 30 No. 1 overall selections and each player's impact on the team and league.</p > </p ><p > <p ><strong >NAME/YEAR:</strong > T Orlando Pace, 1997</p > </p ><p > <p ><strong >TEAM:</strong > St. Louis Rams</p > </p ><p > <p ><strong >THE SITUATION:</strong > The Rams, with new coach Dick Vermeil, were rebuilding. And they desperately wanted what looked like a sure thing in Ohio State offensive lineman Orlando Pace. So they traded up from No. 6 overall, swapping first-rounders with the New York Jets along with third-, fourth-, and seventh-round selections. Pace was going to St. Louis. The Jets later flipped the No. 6 pick to Seattle – who was supposed to draft eighth – and the Seahawks took tackle Walter Jones.</p > </p ><p > <p ><strong >THE CAREER:</strong > Pace was exactly what the Rams had hoped for. He was a great left tackle for 12 years (he played a 13th with the Bears), protecting Kurt Warner's blindside when the Rams won a Super Bowl and played in another. He also was put into the Hall of Fame – an honor, as it turned out, Jones as the No. 6 pick also earned.</p > </p ><p > <p ><strong >THE OTHER OPTIONS IN TOP FIVE:</strong > You can't do much better than a long-term Hall of Fame anchor at left tackle. Linebacker Peter Boulware (70 sacks) had a solid career with the Ravens as the No. 4 pick, winning a Super Bowl in Baltimore, but the Rams were not going to have any regrets about Pace.</p > </p >
The Cardinals hold the No. 1 overall pick for April's NFL draft for the first time since 1958. As the day for the Cards to make their selection draws closer, azcardinals.com will take a look at the last 30 No. 1 overall selections and each player's impact on the team and league.
NAME/YEAR: T Orlando Pace, 1997
TEAM: St. Louis Rams
THE SITUATION: The Rams, with new coach Dick Vermeil, were rebuilding. And they desperately wanted what looked like a sure thing in Ohio State offensive lineman Orlando Pace. So they traded up from No. 6 overall, swapping first-rounders with the New York Jets along with third-, fourth-, and seventh-round selections. Pace was going to St. Louis. The Jets later flipped the No. 6 pick to Seattle – who was supposed to draft eighth – and the Seahawks took...
Offensive tackle becomes Hall of Fame blocker for Greatest Show On Turf
Visit https://www.facebook.com/102042542297_10157084630407298