American Museum of Natural History Photo 2017-10-08 14:38
Source:
media.giphy.com
Visit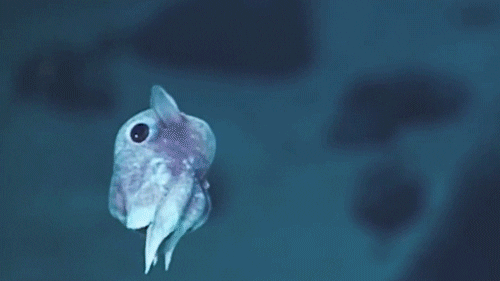 media.giphy.com
October 8-12 are International Cephalopod Awareness Days!

This adorable deep-sea cephalopod (pictured below) flaps its ear-like fins as it moves through the water--a behavior that's earned it the name "Dumbo octopus," after Disney's flying elephant. In fact, there's an entire family of "Dumbo octopuses," with more than a dozen species, observed in oceans worldwide. These are some of the deepest-dwelling octopuses, known to sit on or skim the seafloor at depths of up to 13,000 feet, and to feed on prey like bristleworms by swallowing it whole. "Ear-flapping"--or, more accurately, fin-swimming--is just one of the several ways they can move; and sometimes, they just drift along.
Related Articles
LATAM Airlines Spring Break Flights Deals 2018
Skyscanner
Looking to get away to Latin America this spring? We have gathered the best deals on LATAM Airlines fom Brazil to Colombia, and everywhere in between. Where would you go? http://skyscan.it/6185DV36H scanner.com/tips-and-inspiration/deals/latam-airlines-spring-break-flights-deals/