American Museum of Natural History Photo 2017-10-12 17:18
Source:
media.giphy.com
Visit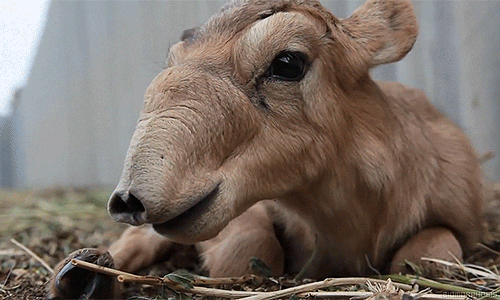 media.giphy.com
Saigas are famous for their unusual, oversized snouts, which are useful for filtering out dust kicked up by herds traveling across Eurasian steppes--and for warming up frigid winter air before it reaches the lungs. These critically endangered antelopes have been widely hunted for the male's horns, which are valued in traditional Chinese medicine, skewing the sex ratio so dramatically that birth rates suffered. And in 2010 and 2015, herds were hit by devastating outbreaks of what scientists think was a fatal bacterial infection, leading to deaths that further shrank the populations.
Latest Comments
I was able to get good reference of this young saiga in Khar Us Nuur National Park in the summer of 2015 and do this painting (I'm a professional animal artist). That's Jargalant Hairkhan Uul in the background. (Moved the saiga to the better background. :0) )
It's called "Watchful".

Magical "medicine" driving species to extinction, "sacred mountains" restricting the growth of scientific knowledge, and every form of bigotry and prejudice imaginable - part of what religion does for humanity.

This is why I fight against that touchy feely new age alternative crap, but it doesn't help big pharma has such a lock on the stuff that actually works.
Related Articles